IMPS 2022 Registration Now Open!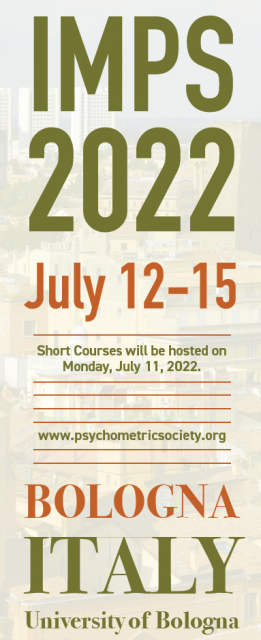 The Psychometric Society is pleased to announce that you are now able to Register for IMPS 2022.
Join the Psychometric Society in-person at the University of Bologna in Bologna, Italy, for its 87th Annual Meeting. The meeting will feature all of the keynote speakers, symposia, oral sessions, poster presentations, and networking events that the IMPS community has come to know and love.
Pre-conference short courses will be held Monday, July 11, and the full conference will run from July 12 through July 15. The presenter registration deadline is May 1, 2022, and early bird discounted registration will end on May 9, 2022.
Please visit the Conference webpage to learn more and for updates on the program schedule, speaker information, hotel booking link, event details, travel and venue information, and COVID-19 safety.
The safety of our attendees and presenters is a top priority of the Psychometric Society. In making the decision to host a live meeting, we carefully weighted the risks and benefits and believe that, with the appropriate precautions, IMPS 2022 can safely take place with minimal risk to our attendees. The Psychometric Society will continue to monitor any situation that may effect the safety of our participants.
To register, please visit the IMPS 2022 Registration Page, which includes information regarding important dates, fees, and links to the registration portal.