The international airport of Santiago is Comodoro Arturo Merino Benítez Airport (SCL).
Transportation from Airport to Santiago
There are several ways to get from Comodoro Arturo Merino Benítez Airport (SCL) to the city.
Beware of scam taxi and minibus services! For both taxis and minibuses, make use of the ground transportation desk, which is located at the luggage claim area, before the exit gates inside of the Arrivals Hall. Ignore people approaching you while making your way through the arrival halls or outside the airport.
The Society negotiated optional airport transfer shuttle service to/from the Santiago Airport at a rate of $52 each way for up to 4 people. Click here to secure your shuttle service today. Book with other attendees to split the flat transfer fee!
It is possible to take a minibus that will drive you directly from the airport to the hotel or the conference venue and this will cost you about 7,000 Chilean pesos (approximately $10 USD). This minibus will make other stops along the way. You can book a minibus in the Transvip or Transfer Delfor booth in the arrivals area, immediately after going through the customs area.
A taxi to downtown will cost you about 20,000 Chilean pesos (approximately $30 USD), but we do not recommend taking a taxi. If you nevertheless want to take a taxi, please make sure that you take an official taxi. These will be either Black/Yellow with a meter or a Blue touristic taxi with fixed fare, see here for more information.
The cheapest alternative is to take the Centropuerto Bus (blue coach bus) or TURBUS Aeropuerto (green coach bus) straightaway after exiting the airport building. These will drive you to Pajaritos Metro Station in 15 minutes (payment onboard: 2,000 Chilean Pesos or about $3 USD). From the Pajaritos station you should take Line 1 of the subway to Universidad Católica station (see subway map below).
Transportation In Santiago
Uber
Uber is available in Santiago and can be used reliably to move around the city. However, Uber drivers usually do not pick up or deliver passengers to Santiago's airport, so using the Transfer service is recommended for the trip to and from the airport.
Bip! Card for Public Transport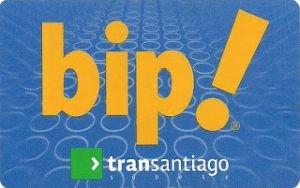 You'll need a "tarjeta Bip!" (a contact-free card you wave over sensors) to use public transport. You pay a nonrefundable 1550 Chilean Pesos for a card, and then charge it with as much money as you want. Two people can share a card, and they also work on the metro. Transantiago charges CH$640 during most of the day, though the fare is 610 Chilean Pesos early in the morning and late at night. One fare allows you two hours in the system, including multiple transfers.
Metro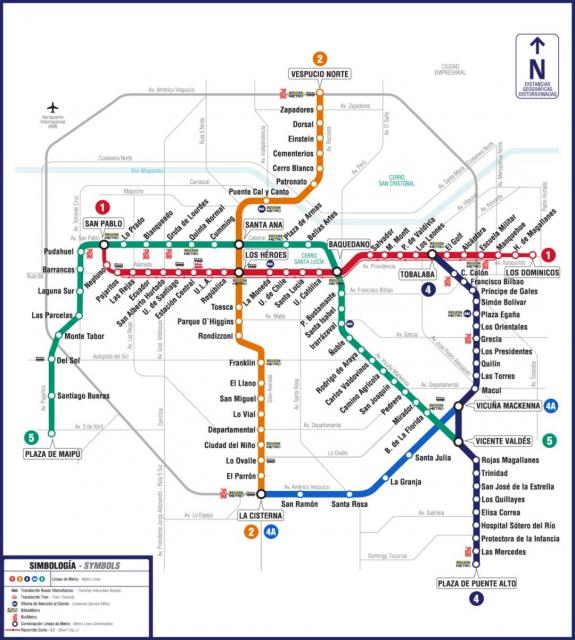 The city's ever-expanding metro is a clean and efficient way of getting about. Services on its six interlinking lines are frequent, but often painfully crowded. A seventh line is slated to open in 2019. To get on the trains, head underground. You can use your Bip! card or purchase a one-way fare. Pass through the turnstiles and head for your line. It's a fine way to get around during the day, but during the morning and evening rush, you may prefer to walk.
Transantiago
In 2006 sleek extra-long buses replaced the city's many competing private services when the bus and metro were united as Transantiago, a government-run public-transportation system that's quick, cheap and efficient for getting around central Santiago. The Transantiago website has downloadable route maps and a point-to-point journey planner. The Bip! card can be used on the Transantiago modes of transportation. The metro is easier to use than the bus system.