Visa
To see a list of countries in which a travel visa is required, please click here and check under the heading "Requiere Visa de Turista?" for your home country. In this document, "SI" means that a visa is required and "NO" means that a visa is not required.
The procedure for obtaining a visa can be found here. To request an invitation letter from the Psychometric Society, please follow the information here.
Disclaimer: The information regarding visa requirements on this page is here mainly to inform attendees about the fact that you may need a visa and how the procedure generally works. However, the Psychometric Society is not liable regarding visa applications, updates, or changes in the visa procedure.
Weather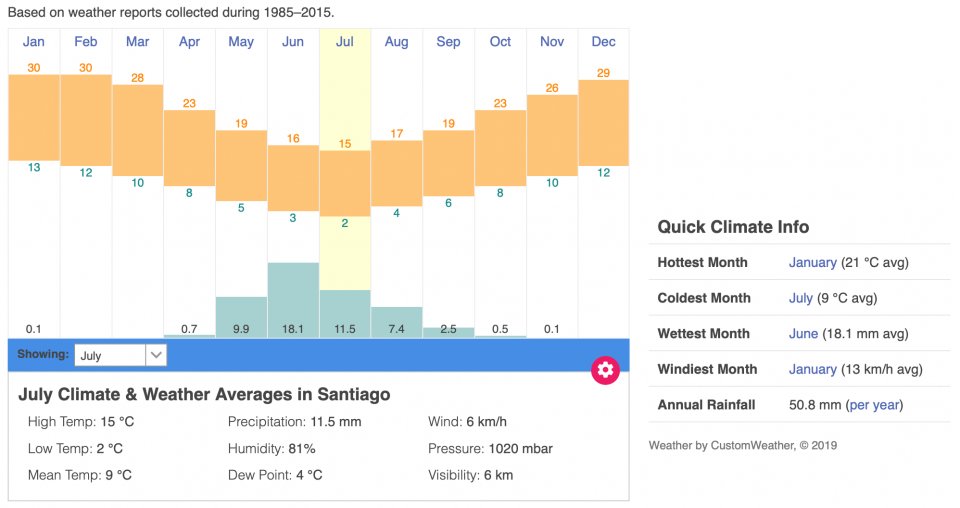 Be aware that conference is held during the Southern hemisphere winter
You can find more details here.
Currency
The currency in Chile is Chilean pesos. As of January 16, 2019, the exchange rate was 700 Chilean pesos for 1.04 USD and 800 Chilean pesos for 1.03 euros.
Electricity
The voltage is 220 V with a frequency of 50 Hz. Your plug can only fit sockets if it is a Type C (the standard "Euro" plug) or a L plug. For more detailed information, see here.
Mobile Phone
There have been reports of iMessage not working for some visitors, with recommendations to use other apps for messaging such as WhatsApp. For further information on the use of your mobile phone in Chile, please see here.