Poster Presenter Information
Welcome Poster Session Reception
Location
Plaza Central at the IMPS conference venue, Centro de Extension UC.
All presenters are assigned a poster number.
IMPS 2019 Poster Assignment
Time
Tuesday, July 16, 6:15-8:15 p.m.
Presenters may put up their posters on Tuesday, July 16, anytime between 4:00 p.m.-6:00 p.m. and each author must stand with their poster from 6:15 p.m.-8:15 p.m. Presenters should arrive at their posters 5-10 minutes prior to the session beginning.
Posters should be removed by authors following the session by 8:45 p.m. Any posters not removed after the session will be kept at the Conference Registration Desk (Plaza Central) until Friday, July 20 at 12:00 noon, and then will be recycled by the University.
Requirements
The required poster printing size for this session is A0 to fit a poster vertically per one panel board side. The posters all should be printed approximately 33.1 inches (width ) x 46.8 inches (height). This is approximately 2.75 feet (width) x 3.9 feet (height). Adhesive backing tape will be provided onsite. It is not recommended to print on cloth as this will be difficult to hang on the panel boards.
All posters should be printed vertically (portrait style), and are recommended the poster dimensions above or smaller.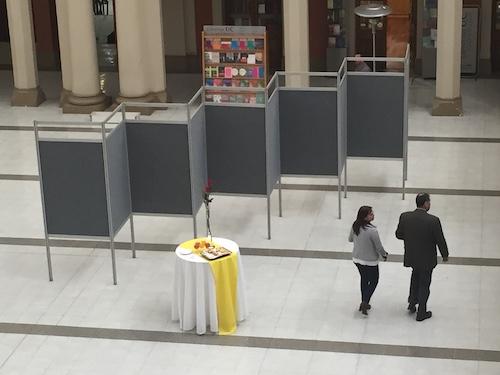 Tips
Presenters may want to bring additional literature to post with poster. An envelope is helpful to hang additional materials in. Another option is to include a QR code in the poster that takes you to a paper or more detailed information.
Bear in mind that your posters will be read from a distance. Charts, drawings and illustrations should be similar to those you would use in making slides. Text should be typed in a large typeface.
In case this is your first poster presentation, check out these resources:
Poster Guide from NYU Libraries