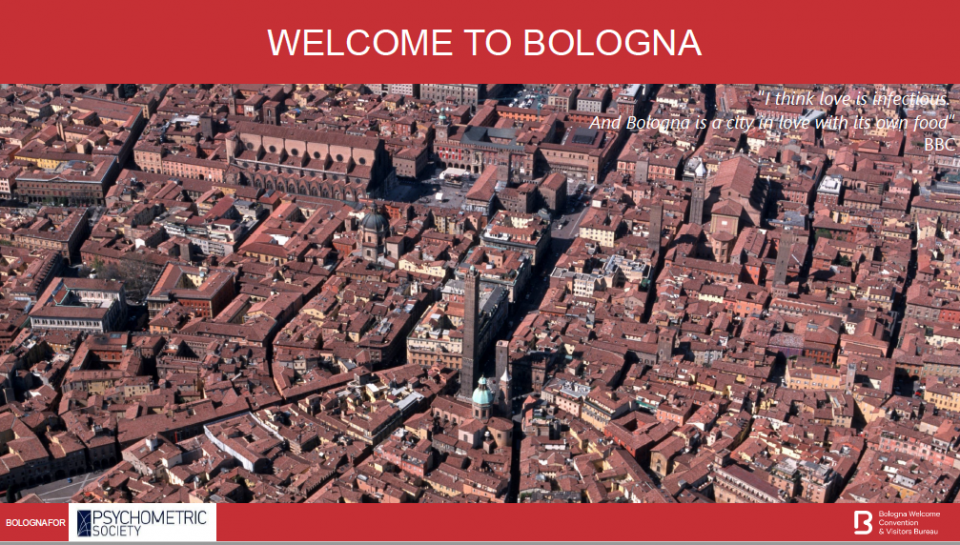 The IMPS 2022 Program Committee has arranged a dedicated Congress Booking System link that will allow you to browse and reserve your hotel guest room. Please note that new hotels are being added daily to the booking link.
Attendees do not need to feel obligated to book through this booking portal. It is offered as an optional tool for attendees to consider using to secure your guest room for IMPS 2022. To view the booking link please click here.
Additional hotel options for attendees are noted in the enclosed document with map: Bologna Hotel Map.
NOTE: This additional list of hotels are not yet available in the booking portal, however they are also recommended by the Welcome Bologna Convention and Visitor Bureau. Attendees may check on their own the availability on any of these hotel websites and then book directly with a property.
IMPORTANT RESERVATION ITEMS AND TIPS TO NOTE BEFORE SECURING YOUR HOTEL:
Once you have successfully reserved a room you will receive a confirmation email with the hotel contact details and recap of your stay. Please keep this for your records, and use the contact information in case of a change or cancellation to your reservation.
Cancellation policies vary. Please read your selected hotel's room information carefully on the hotel portal link or if booking directly with the hotel verify this on the hotel website before securing your guest room. You must contact the hotel directly in the event of a cancel or change to your reservation.
Availability and discounted rates at each hotel are based on a first come, first serve basis. TIP: Make your reservations early. Hotels can reduce their inventory as we near the conference dates.
Each attendee must book & pay the guest room fees directly to the hotel of choice via the portal or through the hotel website. The booking must be guaranteed by a credit card.
The rates listed on the portal discounted link, are stated in EURO per room for the entire stay, inclusive of VAT tax. It will be noted in the portal or directly on the hotel website if breakfast is included in the quoted guest room rates.
Pending each hotel availability and the time the restoration is made, rates may be available up to 3 days prior and 3 days after the conference event dates.
Attendees are not required to, but are suggested to consider booking any of the hotels within the portal booking link, or also book directly with any of the hotels listed on the enclosed map document provided by the Bologna bureau. All hotels listed are nearby the University District, but could still be up to a 25-minute walk therefore we suggest you verify the location prior to booking one of the suggested properties.
Reminder: When reserving your arrival date, European dates are labeled by Day/Month/Year
Not all hotels in Bologna will be non-smoking guest rooms. It is recommended to place a "request" on your guest room reservation if there is an option to leave a "note" or send an email to the hotel that you do not wish to receive a smoking guest room.
Room type definitions:
SGL or Camera Doppia USO Singola means one person in a room with a twin bed. Room is smaller than a DUS
DUS or Double Single means one person in a room that has a double bed (1 double sized-bed, but single occupancy)
DUB or Camera Doppie means the same room with two persons (double occupancy; this might mean 2-twin or 2-double sized beds.)
SUP or Matrimonial means one person in a room that has a king bed (1 king sized bed, but single occupancy)
Matrimonial means two people in a room that has a one large bed (this might be 2 twins together to make 1 king sized bed, or a queen sized bed; double occupancy)
BB means bed and breakfast
Please continue to monitor the IMPS 2022 website for additional travel tips, Italy information, and other conference details. We look forward to another outstanding meeting, and we will see you in-person July, 2022!